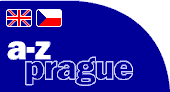 | | |
| --- | --- |
| | FAQ about Prague |
Which electricity are you uses in Prague?
The normal electricity supply is 220 volts.
Can I get tax back?
If you are foreigner you can claim your tax back.
Opening times?
Offices, services and most stores are closed on Saturday (afternoon) and Sunday. Mostly cafes, restaurants and grocers may, however, be open. Service is included in the bill in restaurants and hotels. Usually a good tip is approximately 10%.
Can you tell me a rate of CZK and USD?
The rate of the CZK to each currency is different every day.
You can check it here:
Daily rates
.
Could you please tell me whether the Mastercard & Visa credit cards are accepted in hotels, restaurants, shops, etc., in Prague?

If they are not, then what is the most advisable card to take for a Friday-Monday trip to your city?
With all major credit cards you will not have any problem in Prague. You can use it to get cash money or you can buy anything in shops. All hotels will accept your credit cards.
I am searching for a local internet service provider in Prague, so i can get online with my notebook.
In Czech Republic are providers, which connect you to Internet for free without registration (you only pay phone calls). You can use for example services of Atlas.cz: phone number 971102030, username atlas and password atlas
Can I smoke in restaurant?
In the Czech Republic, there is not a restriction on smoking. In some cafes and restaurants, however, smoking is forbidden. Look at the sign inside.
What about taxi in Prague?
Can you send me a plan of Prague?
Can you give me an advice about public transport in Prague?
The basic 14 KC ticket allows you to travel on only one means of transport for up to 15 minutes.

The 20 KC ticket gives you 90 minutes and you can change your means of transport within the three services.

These tickets can be bought either from "Tabak" shops (where you ask "jizdenky, prosim"), or often from the little stalls selling cheap books within the metro station areas.

After you buy a ticket you have to validate it by putting it into a slot on the top of a yellow column at the head of the escalators.

On a tram or bus you have to slide the ticket into a contraption attached to various columns in the bus or tram. This will marks the ticket.

There are no regular ticket inspectors, but they do have spot checks quite often and they are entitled to fine you up to 5.000 CZK on the spot. (As with other fines, you don't actually have to pay on the spot even if it seems like it.) He is able to give you a ticket explaining where and when you have to pay.

For information (in various languages) on the bus system please call +420 296 19 18 17.

The main bus station is at FLORENC on Metro lines "B" and "C".

Metro trains are very efficient and can usually be relied upon to arrive every 3 or 4 minutes. The last one leaves its end of the line station, heading for home, at midnight.

The normal bus and tram services operate from 04.30 to 23.30. After this time a special night service takes over.

For information on the whole Prague public transport system (in English or German) call: +420 296 19 18 17

The main Railway station is "Hlavni Nadrazi" on Metro line "C".

For information on train services call: +420 412 503 113. (They also speak English and German).