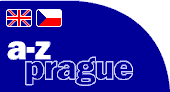 | | |
| --- | --- |
| | Entertainment : Dancing |
CORONA BAR
Adress:
Novotného lávka 5


Praha 1
Phone:
2481 1937
KLUB X
Adress:
Na příkopě 15


Praha 1
Phone:
2421 6073 Ext.255
Open: Mon.-Sat. 20.00-04.00, Sun. 18.00-24.00 Live bands and Discos in a multi-level area.
ROXY
Adress:
Dlouhá 33


Praha 1
Phone:
2481 0951
Open: Daily. 17.00-02.30 Popular with the young tourists. Plays a lot of 'Oldies'.
LAVKA
Adress:
Novotného lávka 1


Praha 1
Phone:
2421 4797
Open: 24 hours. This used to be a homely, slightly seedy sort of place, but is now a very popular, slick disco. (AMEX, DC, EC, MC, V, JCB)
RADOST FX
Adress:
Bělehradská 120


Praha 2
Phone:
251 210
Open: Daily. 21.00-05.00 More of an institution now, it is reasonably popular with the younger western residents. The restaurant above makes this a good spot to visit.
Tancirna spolecenskych tancu Blanky Vasove
Adress:
Muzeum hl. m. Prahy


Praha 1 - Florenc
Phone:
+420 224 81 39 36, 561 05 53
Mobile:
+420 603 23 80 90
ROCK CAFE
Adress:
Národní 22


Praha 1
Phone:
2491 4414
DISCOLAND SILVIE
Adress:
Primátorská 3/172


Praha 8
Open: NON STOP A famous Prague disco. A touch out of the way but they have good music and a menu from 150 Kc.
RIVIERA
Adress:
Národní 22


Praha 1
Phone:
2591 2249
Open: 11.30-02.00 "Mainly for Gays and most definitely overdone as far as the décor goes, but popular. "
CKD Disco
Adress:
Na můstku 9


Praha 1
Phone:
24226288
Open: 20.30-06.00 Slap-bang at the bottom of Wenceslas Square, on top of the CKD building, you can't really miss it. There are really 2 discos in the same building, one on the first floor which is the modern type and one on the fifth which boasts 'Golden Oldies'. It can also seat around 500 in the restaurant, so it isn't small. The prices are reasonable with International food prices from around 100 Kc.