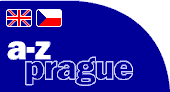 | | |
| --- | --- |
| | Arts : Restorers |
STUKO
Adress:
Fibichova 2


Praha 3
Phone:
272 336
Phone/Fax:
627 4665
(Cooperative of artists involved in the repair of historic buildings in Prague) Plasterers - Painters - Gold leaf. Also Carpenters, Sculptors, Smiths in Iron and Lead and Stonemasons. They specialise in rendering plumbing aesthetically and in all normal and historic restoration work.
THE RESTORATION CENTER PRAGUE LTD.
Adress:
Bryksova 1061


Praha 9
Phone:
+420 2861277
Phone/Fax:
+420 281862682
For cleaning and restoration of carpets and tapestries, historical costumes, flags, banners and other textiles. They also make replicas. Also restoration of works of art and collectors pieces
REINEX s.r.o.
Adress:
Kolmá 4


Praha 9
Phone:
(02) 823537
Phone/Fax:
824054
Our company offers you all types of restoring and artistic craftsmanship, such as: stucco, decorative house- painting, gilding, wood-carving, mounting, stained-glass work and other professions. We are able to provide a complete reconstruction of historical monuments.
Restauratorske prace - Lachman
Adress:
V Korytech 5/1648


Praha 10
Phone:
76 92 85
Repairing of historical furniture, smaller restoretion work.
RENA CENTRUM
Adress:
Ke Břvům 44


Praha 5 (Sobín - metro Zličín)
Phone:
+420 220980596, 20981696
Reconstruction and renovation of historic furniture and antiques. Reproductions and reconstruction of building interiors and exteriors. Upholstery work. Theme decoration of shops and meeting rooms.