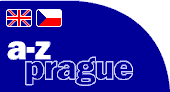 | | |
| --- | --- |
| | Restaurants : Irish |
O'BRIEN'S
Adress:
Janovského 36


Praha 7
Phone:
6671 2655
Open: Daily. 12.00-01.00 &Excellently priced Guinness (44 Kc instead of the usual 70-80 Kc), makes this Czech/Irish pub a good bet.&
CAFFREY'S
Adress:
Staroměstské náměstí 10


Praha 1
Phone:
0602 373 616
Open: Daily. 09.00-01.00 This 'pub' is from the same stable as 'The James Joyce' and the same quality is here too. Not as much as a film set sort of pub as its brother, but has a pleasant, simple atmosphere with an excellent eclectic menu featuring Irish, Czech and Eastern dishes - all done very well and at reasonable prices, (especially considering the location). Live music most nights. Worth a visit.
MOLLY MALONE'S
Adress:
U obecního dvora 4


Praha 1
Phone:
534 793
Open: Sun.-Thurs. 12.00-01.00, Fri., Sat. 12.00-02.00 Good little atmospheric Irish pub with many 'extracurricular' activities for the ex-pat community. Plus great hamburgers. VFM 3
SCARLETT O'HARA'S
Adress:
Mostecká 21


Praha 1
Phone:
534 793
Lots of wood and atmosphere.
JAMES JOYCE
Adress:
Liliová 10


Praha 1
Phone:
2424 8793
Open: Daily. 10.30-01.00 It still puzzles me that people can be so intoxicated (so to speak) by Guinness that they would willingly pay for it nine times what you have to pay for a glass of gorgeous Czech beer just five metres away. But there you have it. One place buzzing with all nations (including a surprising number of Irish) and below their feet another typical, smoky Czech pub with men sitting at tables as if they were not due to move until the Millennium.Good food and atmosphere. VFM 3