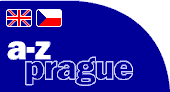 | | |
| --- | --- |
| | Shopping : Books |
THE GLOBE BOOKSTORE
Adress:
Pštrossova 6


Praha 1
Phone:
+420 224 91 62 64
CIZOJAZYCNA LITERATURA
Adress:
Na příkopě 27


Praha 1
Phone:
262 837
(AMEX, DC, V, EC, MC)Mainly stocks the classics in English, German, Italian and Spanish. Has more modern titles as well.
JAN KANZELSPERGER
Adress:
Václavské náměstí 42


Praha 1
Phone:
2421 7335
Stocks English, German, French, Spanish and Russian titles.
BIG BEN BOOK SHOP
Adress:
Rybná 2


Praha 1
Phone:
2328 249
(AMEX, V, DC, EC, MC) New and used books in English.
BOHEMIAN VENTURES
Adress:
Jana Palacha 2


Praha 1
Phone:
2319 516
(AMEX, V, DC, JCB)Mainly aimed at students from Charles University, but has a good selection of English books.
ROZMLUVY
Adress:
Vinohradská 28


Praha 1
Phone:
2421 9331
Stocks some English titles.
VIDEO TO GO
Adress:
Vítězné náměstí 10


Praha 6
Phone:
312 4096
(AMEX, V, MC)
Originally, and still mainly, a video-rental shop, they also have a reasonable selection of second-hand paperbacks as well.
U KNIHOMOLA INTERNATIONAL BOOKSTORE
Adress:
Mánesova 79


Praha 2
Phone:
627 7770
(AMEX, V, DC, MC, EC)
Good selection of new books in English, French, Spanish, German, Arabic and Czech. Expensive, small cafe below.
DANIEL
Adress:
Národní 38


Praha 1
Phone:
2421 4322
Mainly English and German titles.
NARODNI KNIHOVNA
Adress:
Klementinum 190


Praha 1
Phone:
2166 3111
Many English books available.