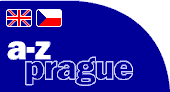 | | |
| --- | --- |
| | Clubs |
Clubs seem to come and go and go and go go. I haven't discovered the real reason for this. There have been massive music places with a thriving business serving floods of beer and crowds fighting to get in which have suddenly disappeared from the map. Occasionally music clubs form, flare and fade and people get sad, only to move on to the next new, lively spot. Some clubs have been around for years and have become Prague institutions. This doesn't mean that I advise you to visit them, they are just there, that's all.

The jazz in the jazz clubs is of a very high quality although if you become a regular you will soon notice that a sort of hard core of top musicians form the basis of a myriad of groups. The clubs are generally informal and the atmosphere is usually great. Entrance prices are usually in the region of 2 USD or about half a gallon of petrol in the U.K., as I like to think of it.
KLUB BILY KONICEK
Adress:
Staroměstské náměstí 20


Praha 1
Phone:
2422 0947
PRIVAT KLUB CLEOPATRA
Adress:
V Hájích 345


Praha 4
Phone:
792 3793
The name probably speaks for itself.
GOLEM CLUB
Adress:
Na Perštýně 18


Praha 1
Phone:
231 4333
Open: 12.00-21.00. This is club is aimed more at the wealthy company directors and friends.
CLUB KARLIN
Adress:
Saldova 17


Praha 8
Phone:
2326 840
INTIMNI CLUB
Adress:
Křemyslova 5


Praha 4
Phone:
436 916
Non-stop.It doesn't take much in the way of translating ability to interpret the name, or the idea.